Virtualization Platform

Microsoft and Veeam:
Take Availability Higher with Microsoft and Veeam
Take Availability higher for your Always-On Business with Veeam solutions for Hyper-V backup and management of your physical and virtual environment. Together, Veeam and Microsoft provide the right combination of virtualization, protection, recovery and complete visibility to deliver Availability for the Always-On Enterprise.
Working closely with Microsoft, Veeam offers customers of all sizes protection of onsite VMs, applications and data, and Veeam extends recovery options from backups in Microsoft Azure hybrid cloud. Microsoft environments with Veeam backup and recovery enable IT administrators to confidently meet service level agreements and deliver RPOs and RTOs (RTPO) of < 15 minutes for ALL applications and data.
Veeam Named Microsoft Partner of the Year Finalist; In 2 Categories
The 2016 Microsoft Partner of the Year award is the recognized standard for excellence in our industry and Veeam is honored to be recognized as a Finalist in 2 categories, Microsoft Azure Certified ISV Solution, and Application Development.
Protection built for Microsoft virtualization
Businesses of all sizes rely on Veeam for Hyper-V backup and protection, because Veeam is built specifically for virtualization. The Veeam Availability Suite provides IT administrators with efficient backup operations, high-speed recovery and the business continuity they need to keep businesses protected and productive.
And with Veeam Explorers granular file level restore capabilities, you can recover exactly what you need, when you need it — restore entire Hyper-V virtual machines (VMs) in minutes and recover individual files or application items residing inside a Hyper-V backup with a simple search and restore.
Veeam Backup and Recovery with Microsoft Azure
With Veeam data loss avoidance and Microsoft Azure, it has never been easier to make backup and recovery with hybrid cloud a part of your business continuity plan. Veeam Cloud Connect gets your backups securely to Azure through Veeam-authorized service providers and eliminates the need for more onsite hardware.
For a hybrid-cloud approach, add Veeam to Microsoft Azure StorSimple for efficient, cost effective backup data management. With StorSimple and Veeam solutions working in concert, IT professionals get high-speed recovery options from both onsite and cloud-based repositories.

Azure cloud backup for enterprise businesses
Veeam Cloud Connect for the Enterprise is an easy and efficient way for enterprise customers to connect and perform backups from various business locations directly to a private cloud (HW data center) or to the public cloud (Microsoft Azure). By leveraging the #1 VM Backup™ in the Azure Marketplace, enterprise customers can instantly provision Azure cloud backup repositories and automatically move their on-premises backup archives to Azure.
This powerful combination provides enterprise businesses with cost-effective Microsoft Azure storage, plus the granular recovery capabilities of Veeam Cloud Connect.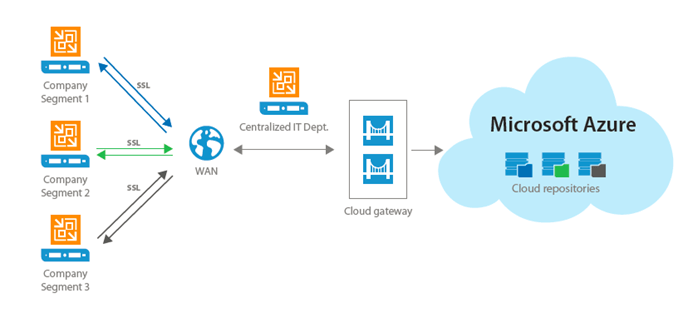 Direct Restore to Azure for Veeam Backups
vailable in the Microsoft Azure Marketplace, Veeam Direct Restore to Microsoft Azure is a FREE, pre-configured Azure appliance that delivers cloud restore for Veeam Backup & Replication and Veeam Endpoint Backup. This new solution enables you to take your on-premises workloads and restore or migrate them to the cloud.
With Veeam Direct Restore to Microsoft Azure, you can:
Quickly restore Windows-based virtual machines (VMs), physical servers or endpoints to Azure to minimize business disruption
Execute planned workload migrations from on-site to the cloud to reduce on-site resource constraints
Easily create an Azure-based test environment for testing backup reliability, as well as patches and critical updates to mitigate risks associated with application deployment
Securely copy Veeam backups (.VBK) to Microsoft Azure with Veeam FastSCP for Microsoft Azure, a FREE standalone utility designed to copy files between on-premises and Azure based VMs.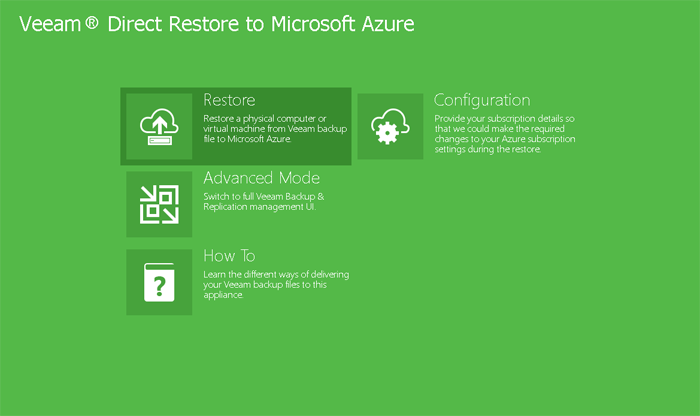 Hyper-V and vSphere Visibility in Microsoft System Center
Veeam helps you get the most out of your Microsoft management and IT operations investment. Veeam Management Pack for System Center provides app-to-metal visibility so you can monitor your critical physical and virtual infrastructure and identify issues before they halt productivity. Veeam enhances System Center reporting and adds out-of-the box dashboards and heat maps to provide a clear picture of network resources.
From critical v-Sphere and Hyper-V monitoring, alerting and reporting to strategic decision-making tools, Veeam offers single-pane-of-glass integration with System Center Operations Manager.
VMware vSphere and Veeam:
VMware vSphere and Veeam – providing Availability for the Always-On Enterprise
Today's businesses no longer have tolerance for downtime, IT failures or lack of business continuity. New storage technologies, server/storage/network virtualization and the advent of cloud computing have all combined to form the modern data center. Providing Availability for the Always-On Enterprise is essential for ensuring that your business remains Always-On and accessible anywhere, anytime and from any device.
VMware vSphere enables organizations to confidently consolidate resources, run business-critical applications and respond faster to business needs. Together, the combination of Veeam and vSphere saves time and money and reduces risk for your organization. Veeam provides full support of VMware vSphere 6.0 including:
VMware Virtual Volumes (VVOLs)
VMware Virtual SAN 2.0 (VSAN)
Storage Policy-Based Management (SPBM) policy backup and restore
vSphere 6 tag integration
Backup and replication of Fault Tolerant virtual machines (VMs)
And more!
By deploying Veeam with your vSphere environment, you'll run business-critical applications with confidence and respond to your business needs faster.
Veeam and VMware Virtual SAN
High storage costs and complexity often inhibit deploying a complete storage and backup solution. VMware VSAN and Veeam Backup & Replication help customers deploy a more integrated, highly efficient and cost-effective Availability solution.
VMware VSAN provides a simple, fast and efficient way to provision and manage storage at the server layer. Veeam replicates VMs at the host level, reducing the costs associated with array-based replication. Veeam's unified console ensures Availability for your entire virtual infrastructure with industry-leading features such as:
Instant VM Recovery
Granular, application-item recovery with Veeam Explorers
VM replication
Plus new features that further leverage IT investments in modern storage and the cloud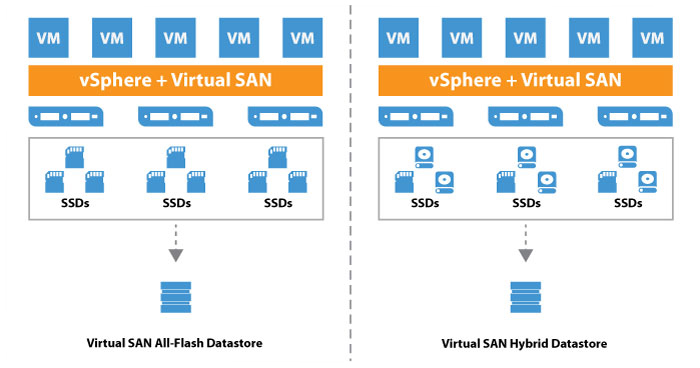 Veeam and vCloud Air
Unlimited capacity, lower operating costs and a managed infrastructure are all promises of cloud-based services. But the benefits offered by the cloud must be weighed against performance, governance and security considerations offered by service providers.
Combining VMware vCloud Air with Veeam Backup & Replication allows organizations to easily and confidently copy local backups to the cloud without sacrificing security or flexibility. Together, Veeam and VMware reduce the risk of losing critical business data by keeping backups off-site and safe — enabling users to compress, deduplicate and encrypt backups to reduce storage costs and bandwidth usage.